Machine taps
FANAR offers machine taps for all kinds of thread shapes and materials. The available taps are made from the best materials such as HSSE conventional high-speed steels, HSSE-PM high speed steels and tungsten carbide.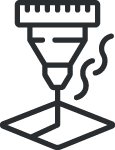 To increase machining efficiency, high productivity and long tool life, the tools are treated with innovative micro-machining processes.
Thanks to their dedicated geometries and coatings, the offered taps are able to machine any material. Variants with central and radial coolant supply are the most efficient and productive tools for thread machining.
We invite you to contact us:
Our Customer Service Centre. Monday-Friday: 08:00 – 16:00